CBSE Sample Paper 2021 for Class 12 Board Exams (Based on Revised CBSE Syllabus 2020-21) & CBSE Class 12 Marking Scheme – Download PDF Now
CBSE 12th Sample Paper 2021:  Download CBSE Sample Paper for Class 12 board exams 2021 & CBSE Class 12 Marking Scheme 2021 for all subjects. Download PDF now & prepare for upcoming CBSE 12th board exams 2021.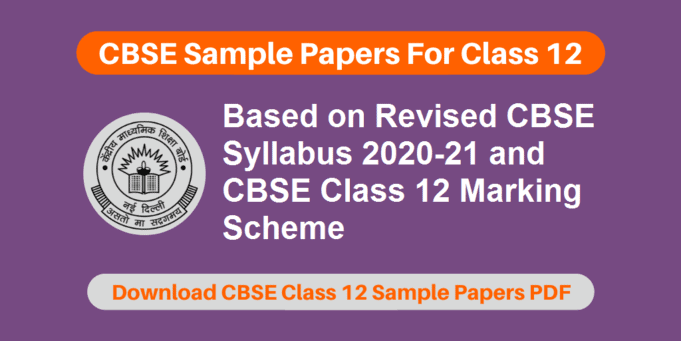 CBSE Sample Paper For Class 12th Physics
CBSE Sample Paper For Class 12th Chemistry
CBSE Sample Paper For Class 12th Biology
CBSE Sample Paper For Class 12th Mathematics
Benefits of Solving CBSE Models Paper for Class 12

Time Management: By solving the CBSE Board Sample Papers students get enough practice that they can solve the whole question paper on time. This helps them in managing the time during examinations.
Examination Strategy: After practising the sample papers students can make a plan for the exam that which parts they can solve first and which at the end, as per their strong and weak points.
Helps in Self Evaluation: If you solve the CBSE Sample Question Paper it will help students to examine themselves. They will get to understand their current preparation level.
Helps to Identify Silly Mistakes: Solving CBSE sample papers will help students to know their silly mistakes. Then try not to repeat them during the examination.
Advantages of CBSE Sample Papers for Class 12:

Get a good idea about the actual exam paper pattern
Easy accessibility
Available in PDF Format
Free of cost
Help know the mark distribution system
Good for self-evaluation
Useful from the examination point of view
Set as per the latest CBSE syllabus
Available for Class 6 to 12 for all subjects
Here we have gathered all the questions from their particular subject as per CBSE guidelines.
In less time, students can perform better through the technical support we provide. We recommend practising every set to sharp your skill.